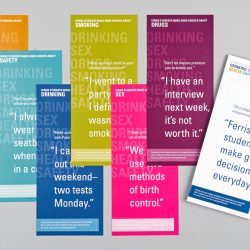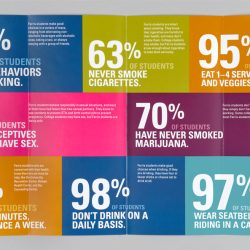 Campaign targeting freshmen students regarding making good decisions about health, safety, drinking, sex, smoking, and drugs. Each flier features a positive quote about making a good decision with supporting statistics on the back side. A poster for each topic was also designed and posted in public areas throughout the university.
SizeW 3.75" x H 8.5"
Paper/Material White, dull coated text
Techniques Offset printing, 4 color process. Double gate fold.
Copyright Ferris State University
Artifact Type Original (1 brochure and fliers)
Donor Linda Powell
ID Number 9616